The world of trains according to David Graham
July 27th, 2003
Three of us headed out to the Halton sub just south of Milton on the CN Halton sub to see what we could see. We sure saw. The day started with a train with dragging equipment, and, in exchange for fetching coffee, we got a tour of an SD75i cab, and didn't get worse for the next 6 hours.
Milton, Ontario
(map) This is where the CN Halton and the CP Galt subs cross eachother, though there is no junction.









video


Blocked by a train with dragging equipment two miles away in Boyne, this 6 car, 3 engine train backed down some distance and would later reemerge attached to another train.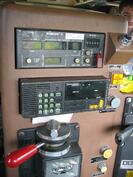 video


Ever wonder how those hy-rails actually got on the tracks? Well, in a lucky turn of events, we got to watch one and I recorded most of the event in this video. Unfortunately, my flash card filled just as the foreman was wrapping it up.